I know this is not my food blog but for Masu Sushi and Robata, I am making an exception — however this entry is not a review of the restaurant at all, we just want to share the great dining experience we had to all our friends…
Anyway, JZ and I continued our anniversary celebration at this highly recommended restaurant. It was actually a very welcome surprise to be greeted "Happy Anniversary" by the host and the manager. We were ushered and seated close to the "open-window" kitchen which gave us the first glimpse of all the food that were coming out. Way to go, making our mouths water!
Our server (we forgot to ask her name, bummer because she was very good) explained to us the menu and suggested her favorites, too. With that and with what was previously recommended, we tackled our order for the night. For drinks, I got the Lucky Millionaire Mojito which came with a lottery scratch card while JZ had the Big Man Japan and for starters, we picked the Ginger Duck Gyoza (I didn't take pictures of those). After devouring the Gyoza, we were then served with our chosen three robatas — chicken meatballs, BBQ short ribs (karubi) and the quail eggs with bacon (Uzuru Maki). The last two were winners in our opinion.
As we were finishing our robata, two big bowls of ramen were placed on our table (perfect timing). JZ had the Tonkatsu Curry Ramen (first photo) while mine was the Pork Belly Ramen (second photo). We were in Ramen heaven although I have to say I like the latter more.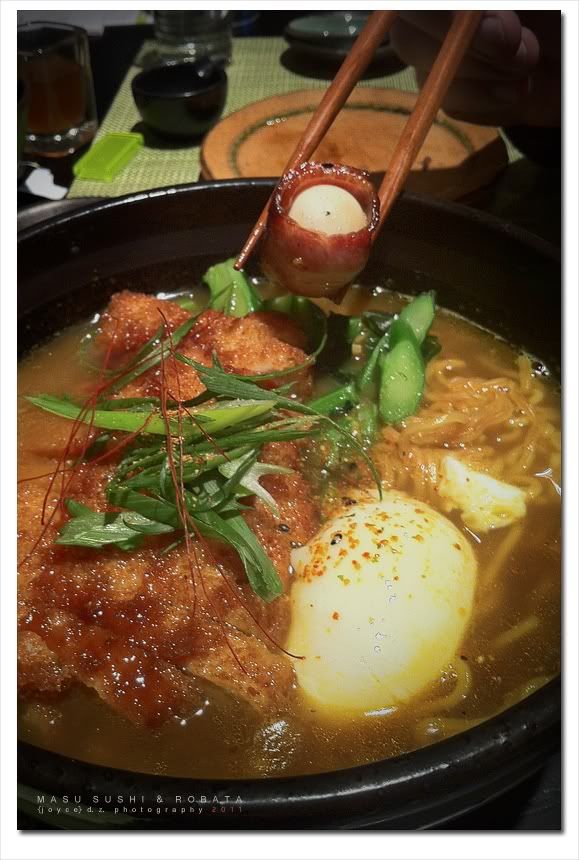 We capped off our lovely meal with desserts as compliments from our friends who happened to be there, too. We were presented with coconut rice pudding brûlée with banana katsu and Japanese pancake with Adzuki-Chocolate Ganache and Black Sesame Caramel. I love the former while JZ finished the latter.
We went home that night not only with our hearts overflowing with love for each other but with our bellies filled almost as equal.
We will definitely visit again to try the sushi and more from the long menu…
Happy Wednesday night!
Much love,
Joyce